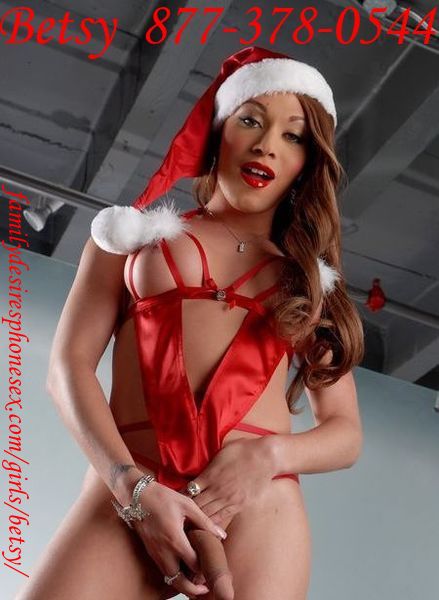 'Twas the night before Christmas, and all through the halls, not a creature was untouched, not even her balls.
Fishnet stockings were hung by the chimney with care,
and poor old Saint Nicholas sure looks threadbare.
The elves were nestled all snug in their beds,
While visions of cum drops danced in their heads;
And Mrs. Claus in her nightie, with St. Nick in her lap
Soon in his ass her fingers would tap
When out in the barn there arose such a clatter,
No one dared see what was the matter.
Rudolph was drunk in a flash
Even Dasher threw up in the trash
The moon on the breast of the psycho did show
begging at her knees were the elves below
When, what to my wondering eyes should appear,
But a big tranny dick, searching for a rear
With a big old driver, so lively and quick,
I pitied in a moment poor old St. Nick.
More rapid than racers her strokes they came,
And he whistled, and shouted, and begged as he came
He came on the porch! to the top of the wall!
Now bash away! bash away! bash away all!
With the ease that comes from not having a fly,
She whipped her dick out and it pointed to the sky,
Even to his tonsils Santa's balls withdrew,
With the bed full of toys, and vibrators too
And then, in a whimpering, while she so aloof
The prancing and pawing on his back like a hoof
As she drew in her hand, and turned it around
Down his little chimney she slid with a bound.
He was dressed all in latex, from his head to his foot,
And his clothes were all smeared with prints from her foot;
up and over he was flung on his back,
And he looked like a slut playing with his sack.
His eyes — how they twinkled! his asshole no longer wrinkled!
His cheeks were like roses, his nose full of blow!
His droll little mouth was drawn up like a bow,
And her cum on his chin was as white as the snow;
The stump of a whip he held tight in his teeth,
And a collar and chain ringed his head like a wreath;
He had a small face, and a distended belly,
That shook, when she fucked him like a jar of KY jelly
He was chubby and plump, a right perverted old elf,
and she dripped when she left him, in spite of herself;
a squirt on his eye, a pat on his head,
Soon gave him to know he had more to dread;
He spoke not a word, but went straight to his work,
And kneeled between her stockings, and started with a jerk,
And laying his finger aside of his nose,
And giving a nod, her rod down his throat goes
She sprang his ass, no longer did it whistle,
his pride flew away, like down on a thistle.
But I heard him exclaim, when her dick slid again out of sight
"Merry Fucking Christmas? Fuck it all! I won't survive the night!"