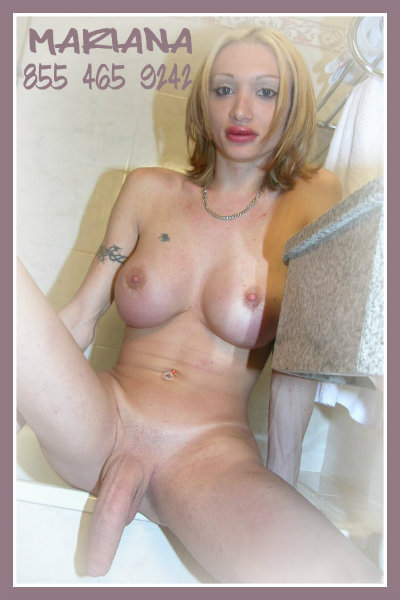 Before I did tranny phone sex, I worked in an office. My boss there was an asshole, plain and simple. He treated all the guys like they were golden and all the girls like shit. But he'd walk around calling us "sweetheart" then give us no credit for anything we said. But me… he watched me. It was like he couldn't take his eyes off of me. Now, mind, this boss was strictly against office relationships of any kind – no PDA, no hanky-panky, etc. So it was clear he was panting after me, but he could do nothing about it.
Well, you and I know that there's something special about me, and it's clear that he sensed there was as well, but he didn't KNOW it. One day, though, I managed to slip into his office on the premise of getting him to sign some document, and I closed the door behind me. I went up to him, sat down on his desk, straddled his legs as he sat in his chair, and before he could say anything, I was kissing him.
Before long, he had his hands up my shirt, pulling it back so he could suck on my nipples, and he was moaning. That's when I started bumping into him with my erect cock through my tight skirt. I felt him stiffen and start to pull away, but I pulled him tighter to me. "You know you want this, don't you." I didn't make it a question.
"Yes," he whispered back.
"Suck it. Suck my tranny dick." I guided his hand up my skirt to my hard dick and slipped it out of my panties, then hiked up my skirt so he could begin to suck it. Oh heavens, it felt so good! Having this stuck up prig of a man bowing his head before me and sucking my incredibly hard cock! I suddenly felt ready to burst, and I yanked his head back, cumming all over his nice clean suit, making a horrendous mess.
His face darkened, then reddened as he blushed. "I have a change of suits, fortunately," he stammered, "though I don't know how to explain why I've changed."
"Good luck with that." I tucked my cock away, back into my panties and under my skirt, straightened my clothes, and went back to work.